Tuesday, 09 February 2016 08:32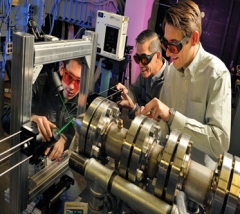 Q. Why choose aircraft maintenance engineering?
A.Lebanon and the whole Middle East region are witnessing a tremendous growth in aeronautical activity. Huge fleets of aircraft need to be maintained to the highest standard in order to ensure their safety and reliability. According to a number of well-known companies, there is a severe shortage in the region of personnel qualified to fill this vacuum.
Q. What does the Aircraft Maintenance Engineering Program seek to achieve?
A.The Aircraft Maintenance Engineering Program at Balamand is designed to prepare local youth for entry into a challenging and exciting technological profession, one moreover that at the present time desperately needs recruits. The AME Program covers all areas of expertise needed for individuals to become licensed to help maintain the aircraft of any one of the many fleets possessed by regional companies.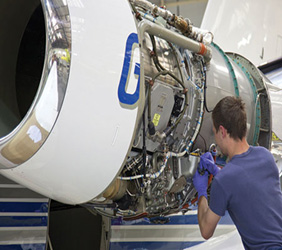 Q. What does the Aircraft Maintenance Engineering Program involve?
A.The Program, spanning six semesters and more, is based on the American credit system. It is structured in such a way that the standards of both the European Aviation Safety Agency (EASA, Part 147) and the Lebanese Directorate General for Civil Aviation are met, at the end of the second and third years respectively. The Balamand degree in AME is fully certified and approved by the Lebanese Ministry of Education and Higher Education and the Directorate General for Civil Aviation. Each semester, a number of courses allocate credits easily transferable to the European Credit System (ECTS). Courses include practical and guided work components enhancing the student's skills as well as his understanding of the theory. To meet regulatory standards, students are required to complete industrial training placements at approved aviation maintenance organizations during the summer months of their education. By the time they graduate, they should be well experienced.
Two options of the AME program Airframes and Engines
This option is concerned with the mechanical features of aircraft. It deals with the maintenance of structural aircraft components such as piston or gas turbine engines, as well as mechanical items such as hydraulic and pneumatic systems, fuel and pressurization. For this option, the student has to be a person who enjoys a mechanical challenge.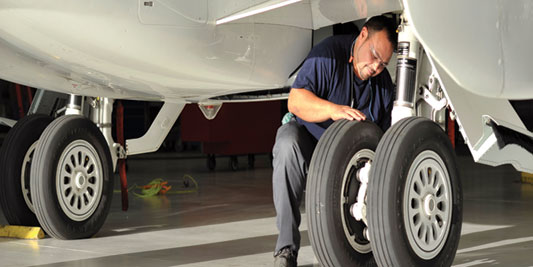 Avionics
This option is concerned with the maintenance of all electrical, electronic and computer-based systems, as well as the instrumentation used to monitor the progress and safety of aircraft in flight. These include cockpit flight instruments, communication and navigation systems, weather radars, flight management systems, engine monitoring systems, and in-flight entertainment systems. This option suits candidates who wish to specialize in electrical, computer and communication technologies.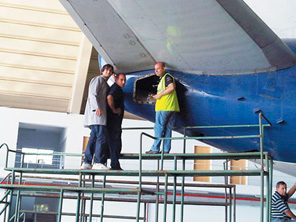 Q. After obtaining a degree in Aircraft Maintenance Engineering, what?
A.AME graduates are sought after by maintenance organizations, airlines and aircraft operators. They can choose to be on the workshop floor, in the hangar, or on the aircraft. With appropriate training, they can also plan and manage aircraft maintenance procedures and schedules and liaise with flight crew and operations staff on the crucial matter of airworthiness.
Further to the above, those with a Bachelor of Science in Aircraft Maintenance Engineering have the option of continuing their studies towards a Master of Science degree in one of the various areas of engineering, science or management. Alternatively, they can find employment in many branches of industry.