Wednesday, 09 August 2017 10:31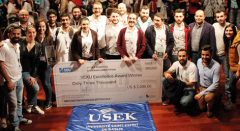 The Holy Spirit University of Kaslik (USEK) is a private Catholic institution of higher education founded and governed by the Lebanese Maronite Order (LMO) since 1938. USEK is located on the coastal side of Mount Lebanon with an exceptional view of the Mediterranean Sea. Today, USEK welcomes around 7500 students across its 12 Faculties and has graduated around 18000 students since 2001.
Throughout the years, USEK has realized many wonderful accomplishments, and still strives for greater achievements in the future. This has been realized through the establishment of a tradition of excellence rooted in the OLM educational mission, which has led USEK down the path to success in different aspects and on different levels. This culture has also enabled the University to secure its international position among Higher Education Institutions and its globalization strategy.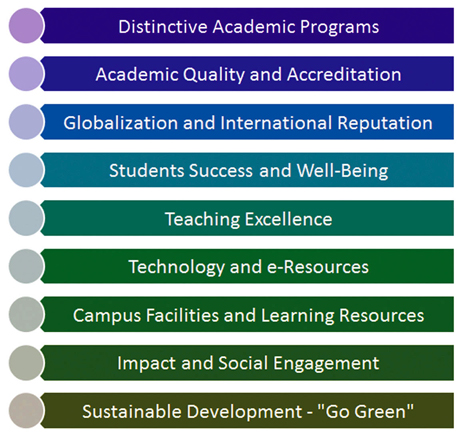 REGIONAL UNIVERSITY CENTERS
With the aim of improving access to higher education for youth living in remote areas, the Holy Spirit University of Kaslik (USEK) has expanded its mission by creating three additional Regional University Centers (RUC):
•

Zahle RUC located in the Bekaa Valley
•

Chekka RUC located in North Lebanon
•

Rmeich RUC located in South Lebanon
ACCREDITATION: 3 PILLARS AT USEK
Given that one of the main objectives of USEK is to achieve distinction on a global level by complying with international standards, the University has put great effort into different evaluation and accreditation projects. This has resulted in USEK being awarded the following accreditations:
1. Institutional Accreditation
Seeking European Institutional Accreditations at USEK ensures that the University is in a continuous process of improvement and that its strategic vision and practices meet European standards.
As a result, many changes have taken place at USEK, such as the establishment and empowerment of the Quality Assurance Office, focusing on quality teaching and learning, and developing a better culture of evaluation, thus proving that deployed administrative and academic efforts are serving the institutional objectives and mission and go hand in hand with the European Standards and Guidelines for Quality Assurance.

In September 2009, USEK completed an institutional evaluation program (IEP) conducted by the European Association of Universities (EUA) and became the first university in the Middle East to pursue such an evaluation program.
In December 2012, USEK was granted the European Institutional Accreditation for five years by the German institution, Evalag EVALUATIONSAGENTUR BADEN – WÜRTTEMBERG, EQAR (European Quality Assurance Register), ENQA (European Association for Quality Assurance in Higher Education) and EUA member.
2. Programs' Accreditation
Two Computing Programs have been accredited by the Computing Accreditation Commission of ABET, http://www.abet.org: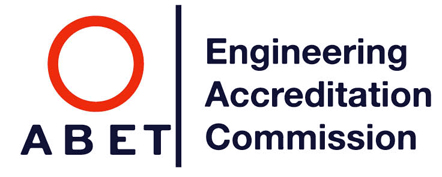 •

Information Technology (BS)


Seven Engineering Programs have been accredited by the Engineering Accreditation Commission of ABET, http://www.abet.org:
Faculty of Agricultural and Food Sciences:
•

Agricultural Engineering (Engineering Diploma)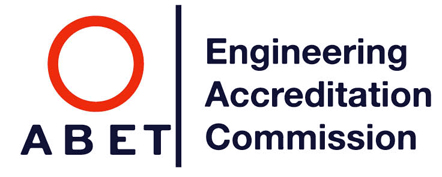 •

Biomedical Engineering (BE)
•

Chemical Engineering (BE)
•

Computer Engineering (BE)
•

Electrical and Electronics Engineering (BE)
•

Mechanical Engineering (BE)
•

Telecommunications Engineering (BE)
The Faculty of Business and Commercial Sciences at USEK was informed in January 2017 that they are formally eligible to pursue accreditation by The Association to Advance Collegiate Schools of Business (AACSB) Initial Accreditation Committee, http://www.aacsb.edu, an internationally recognized, accreditation specifically for business and accounting programs at the bachelor's, master's, and doctoral level.
The evalag expert panel for Programme Accreditation for Humanities and Social Sciences conducted a site visit to USEK in February 2017. A series of focus meetings were organized with people from across the whole USEK community.
The decision for the evalag International Programme Accreditation for the below programs is expected in June 2017:
•

BA in Education – Basic Education
•

BA in Language and Literature
•

BA in Journalism and Communication
•

BA in Modern Languages and Translation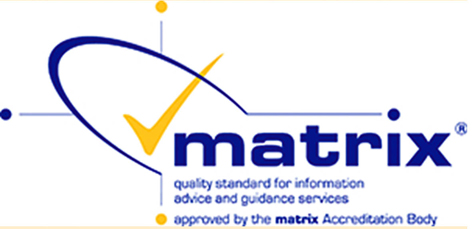 3. Student Services Accreditation:
USEK became the first university in Lebanon and the region to gain matrix accreditation for its student support services, which aims to ensure its commitment to offering high quality services to its students for their welfare on campus, and ultimately for supporting them in their learning, career and life goals.
•

International Affairs Office (international students' services)
•

Quality Assurance and Institutional Effectiveness Office
USEK offers around 140 programs across its 12 Faculties. These programs range from undergraduate to graduate and doctoral levels. Below are the areas of study in each of the Faculties. More details about the degrees can be found on the University website www.usek.edu.lb.
Agricultural and Food Sciences
•

Agricultural Engineering
•

Human Nutrition & Dietetics
Business and Commercial Sciences
•

Banking Operations & Management
•

Electrical & Electronics
•

Cybersecurity & Cyberdefence
•

Communication & Visual Arts
•

Conservation, Restoration of Cultural Property
Law and Political Sciences
•

Law (Public / Private / International & Comparative Law / International Contracts)
•

International Relations
•

Diplomacy & International Security
•

Language & Literature (Arabic / English / French)
•

Modern Languages & Translation
•

Journalism & Communication
•

Diploma in Interpretation
•

Health Fundamental Sciences
•

Doctor of Medicine M.D.
•

Diploma of Specialized Studies
•

Music (Musicology / Musical Education / Sacred Music)
•

Higher & Specialized Music Education (Occidental Classical Singing / Arabic Singing / Music Composition / Solfeggio-Dictation / Musical Instrument)
Philosophy and Humanities
•

Intervention & Social Work
Religious and Oriental Sciences
•

Religious & Pastoral Education
Sciences
•

Actuarial & Financial Mathematics
•

Cybersecurity & Cyberdefence
Theology
•

Theology (Canonical Bachelor / Master / Ph.D.)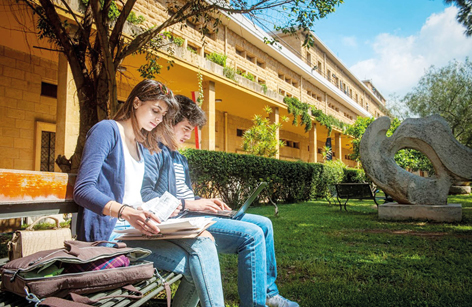 The Counselor says How to apply?
For information on the application form and procedures, please contact
the Orientation Office on:
Nowadays, Higher Education is confronting major challenges and has to find ways to adapt to the wishes of students, the requirements of the market and needs of the community. Therefore, USEK has been keen to adopt educational best practice and adapt and improve current programs to meet standards of excellence for the benefit of its students.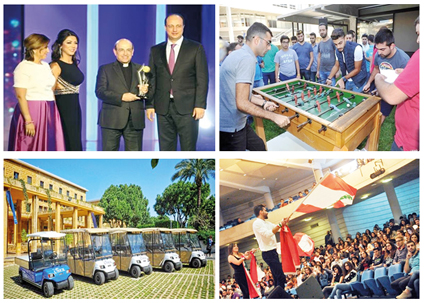 USEK has newly introduced the Freshman Program to accommodate students in Arts and Sciences disciplines, starting Fall 2017. Freshman, the term used for students in their first year at a Higher Educational Institution, is usually the equivalent to a secondary level or Grade 12 at school. As a Freshman at USEK and unlike School programs, students will engage with specialist instructors; have access to valuable campus resources; and, of course, have the chance to interact with other students through lively, engaging courses and events throughout the year. The Freshman Program gives students the opportunity to enjoy all that USEK has to offer at a large urban campus with a small-school feel and without the obligation of pursuing the official governmental examination.
Students today are looking for specific outcomes and expect colleges and universities to align themselves with industry requirements. And since competition is tough, USEK has made some modifications in its programs after careful planning and communication with the right stakeholders.
New Degrees
(Starting Academic Year 2017-2018)
New degrees have been introduced at undergraduate, graduate and doctoral levels. 
BA in Conservation, Restoration of Cultural
BS in Nutrition & Dietetics – Coordinated
MA in Conservation, Restoration of Cultural Property & Sacred Art
MA in Middle Eastern Studies
MS in Cybersecurity & Cyberdefence
Master of Laws in International & Comparative Law
Master in Law (Business Law, Health Law,
Social Law, Environmental Law)
MA in Learning & Teaching for Higher Education
Ph.D. in Conservation, Restoration of Cultural Property & Sacred Art
Ph.D. in Agriculture & Food Sciences
Ph.D. in Religious & Oriental Sciences
Ph.D. in Chemistry & Life and Earth Sciences
Online Certificate of Geopolitics of Lebanon & the Middle East
Online Certificate of Teaching & Learning
Online Certificate of Information Assurance & Cybersecurity
As of Fall 2017, USEK will be offering students minor options in disciplines different from their major subject. An academic minor is a declared secondary academic program a student can take during their undergraduate studies. For Example, you can graduate with a major in Computer Science and a minor in Business. USEK students can choose from a variety of minors offered in different the fields (The list of minors on offer is available on the University website www.usek.edu.lb)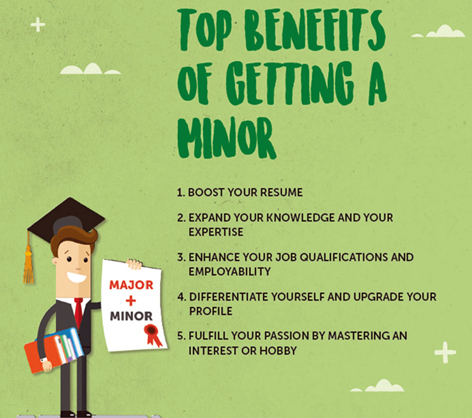 USEK CONTINUOUS LEARNING CENTER (UCLC)
The mission of the USEK Continuous Learning Center (UCLC) is to establish a quality learning environment to prepare learners for real-life issues by providing quality knowledge and information that extends from the academic fields to the realms of lifestyle, science, and arts.
Staying true to the University's devotion to high-quality learning for all, UCLC is committed to offering a wide range of courses at suitable times of the day.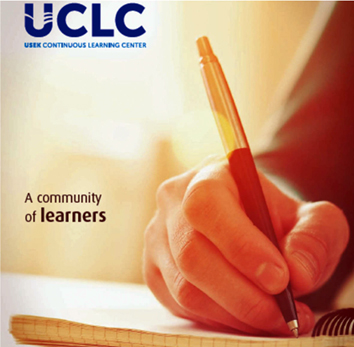 As educators, we want to encourage people of all ages to develop their interests and passions through continuing education and lifelong learning. For this reason, we seek to provide the community of learners all the required elements needed to explore their potential through quality education in their fields of interest.
For more information about UCLC courses you can visit the university website
www.usek.edu.lb
The Asher Center for Innovation and Entrepreneurship (ACIE) aims to promote innovation and entrepreneurship at USEK. It invests in USEK students, faculty, alumni and community by providing them with the necessary tools, resources and networks to support their entrepreneurial initiatives. ACIE is the platform for innovation, entrepreneurship, incubation, mentoring, and value creation at USEK. ACIE supplements students' academic experience through completing the learning cycle from idea creation to implementation, and acts as a bridge, connecting both students and faculty to the marketplace.
Scope of Activities: Research, Entrepreneurial Education and Training, Events and Competitions, Mentorship, Funding, Business Incubation, Accelerator Programs, Commercialization of Research.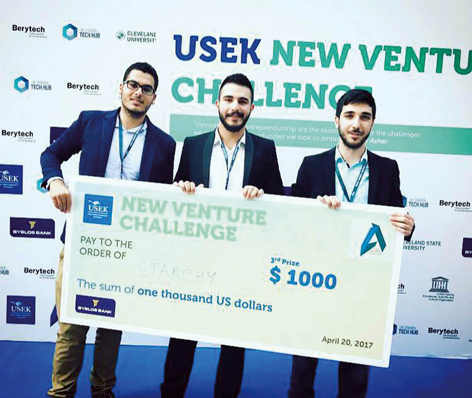 USEK is committed to providing its students an excellent educational and academic experience, as it places great importance on the continuous development of faculty by, for example, providing traveling support to enable them to participate in international academic and scientific activities, organizing workshops and training sessions (new faculty orientation, active learning, online teaching and e-learning, program outcomes definition and assessment, cultivating and implementing teamwork, etc.), and also by providing free English language courses, continuous education programs to develop teaching and learning, and a wide range of resources to enhance the teaching and research activities of faculty members.
USEK has defined a teaching and learning strategy that supports its mission and objectives. This strategy evolves around the following points: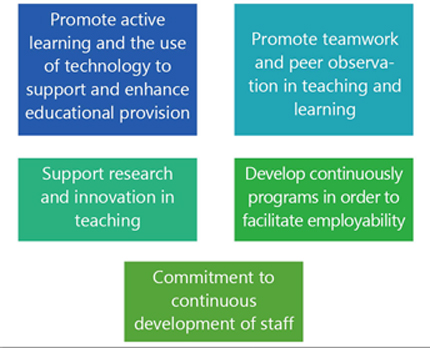 Learning and Teaching Excellence Center – LTEC
The Learning and Teaching Excellence Center (LTEC) is dedicated to the development of the professional qualifications of educators in teaching and learning through the promotion of teamwork, innovation, self-reflection and the efficient use of instructional technologies, and through sharing best practices to enhance the student learning experience.
The LTEC provides a number of tools to improve and enhance the online teaching and learning process, and also delivers training sessions on emerging digital platforms (such as e-learning) that can be used in both distance and face-to-face classrooms.
Within this context, USEK offers a Post-Graduate MA/Certificate in Learning and Teaching for Higher Education designed to equip professionals who already have subject matter expertise within their academic discipline with the knowledge, skills, and credentials to teach at the university level or train in a corporate setting.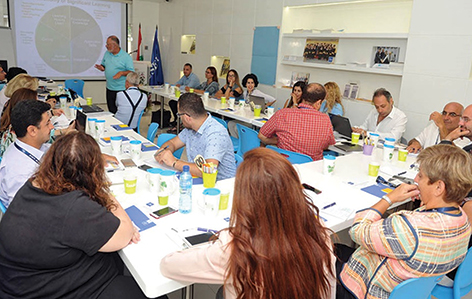 USEK is currently leading the project E-TALEB, a "Professional Standards Framework for Excellence in Teaching and Learning in Lebanese Universities", co-funded by the Erasmus+ Programme of the European Union.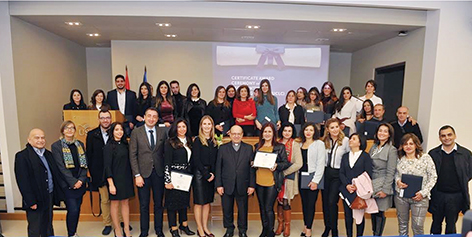 The project proposal submitted by the University was the only Lebanese project that was approved and USEK has been awarded a grant of 750,000 euros to lead the project with the collaboration of the Directorate General of Higher Education in Lebanon and 12 other partner universities and organizations from Lebanon, the United Kingdom, France and Germany.
E-TALEB is a structural project aimed at developing Lebanese Professional Standards in Teaching and Learning, and cooperating for innovation and exchange of good practices and experiences relevant to similar frameworks established in Europe.
USEK WORLDWIDE… Partake in the Adventure!
Internationalization is at the heart of the university community. USEK seeks to develop an international setting for it students, faculty, and personnel to better prepare them to meet the challenges of a globalized world. Therefore, USEK is instilling an international ambience to its campus through its internationalized curriculum, international collaborations, recruitment of international students and faculty, internationalized research, co-curriculum activities, and through its language policy.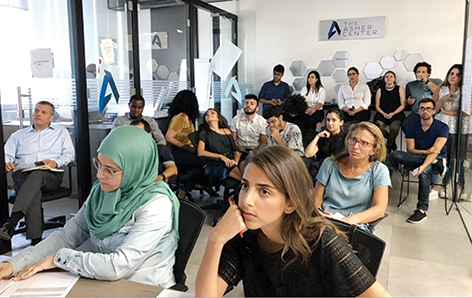 USEK has partnered with more than 140 universities around the world and strongly encourages its students to study abroad as part of a student exchange program. The International Affairs Office (IAO) is always at the service of students and is there to answer all their questions, address their concerns, and help them overcome any challenge they might face. The IAO will help USEK students prepare to study abroad so they can make the best of their experience. The IAO also supports incoming students by offering them help with their file processing, admission, and registration, and providing them with any assistance and answering any questions they may have throughout their stay at USEK.
BEYOND THE CLASSROOM … A DYNAMIC CAMPUS LIFE
USEK cultivates a strong feeling of belonging among its students, thanks to its student-friendly campus life and the multiple services it offers students. Beyond its courses, student life at USEK takes several forms and offers the opportunity for students to develop new competences and knowledge and build a large network of contacts.
Mentored by first class trainers, several university sports teams represent USEK in national and international university competitions in the fields of basket-ball, volley-ball, football, futsal, table tennis, skiing, tennis, chess, fencing, combat sports and athletics.
USEK is ranked among the best universities in Lebanon and the region, winning numerous championships all around the world. Moreover, USEK students are regularly selected to be part of national university teams.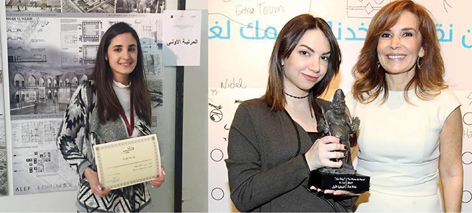 Highly engaged in extracurricular activities as well as academic pursuits, USEK students participate in a variety of national and international contests, challenging convention and demonstrating intellectual and athletic prowess. With their honored achievements they are shaping the future on and off campus.
•
Reine Chahda, a student from the Faculty of Fine and Applied Arts, won first-prize at the 17th Jaderji Award for Lebanese architecture students. This is the third consecutive year USEK has won the Jaderji Award.
•
Priscilla Bassil, a student at the Faculty of Fine and Applied Arts, won the inaugural edition of the La Plume de Pierre Trophy under the patronage of renowned French cartoonist Plantu.
•
USEK Robotics team developed two robots and successfully competed with 18 other participating teams representing different universities in a competition organized by VEX Strastruck. The team won the Lebanese Championship award and the Excellence award and will represent Lebanon in the Vex World's Championship in the USA.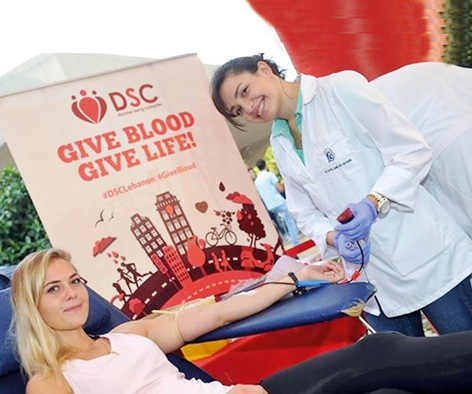 Engaged, Passionate and Gifted? … Take part in USEK's social activities
USEK is committed to the continuity of a community spirit, in which the spiritual, civic and ethical values of respecting the other and their beliefs flourish. The University organizes gatherings and activities on and off campus for its students, giving them the opportunity to mingle with others, andshare new experiences.
Thanks to the light, spacious and welcoming university restaurant (with a superb menu for the health-conscious) and the green campus environment, an area for socializing and connecting with others means conversation can flow and spontaneous friendships that often last a life time can freely develop
On November 26, 2016, the USEK Green Committee was awarded the Social Economic Award (SEA) certificate of recognition in the Environment Protection category for its Zero Waste Campus project..
Enrich your Learning Experience
USEK has the most prestigious and richest libraries in the region. It has been established to help all students pursue their studies in favorable conditions. In addition, USEK Library works hard on the conservation of local Lebanese memories, the collection of Lebanese heritage preserved abroad and the dissemination of written Lebanese heritage.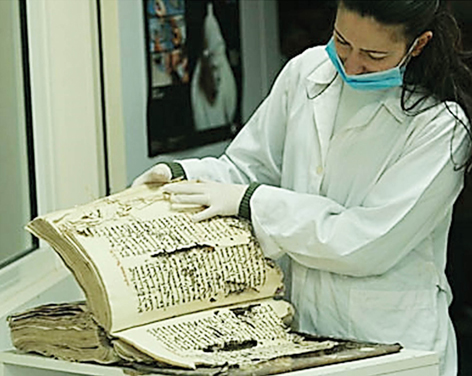 Develop your skills in stock analysis and trading.
Located at the Faculty of Business and Commercial Sciences, the Dealing Room is one of the largest and best equipped of its kind among universities. It is a fully smart automated room, equipped with a smart podium from where the whole room can be controlled, a video-wall and over a dozen LED screens. It counts 20 terminals directly related to Thomson Reuters data feed to offer our students the best environment for developing their skills in stock analysis and trading.
Plan your future … you'll be in demand
USEK strives to make its student career services an essential component for their personal development and to build on their employability while at University and after graduation. It seeks to make a meaningful contribution to their experience, inspiring and empowering students to be the best they can be, to fully develop their potential and to kick start their career confidently.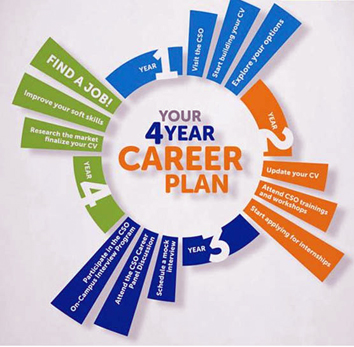 HOLY SPIRIT UNIVERSITY OF KASLIK