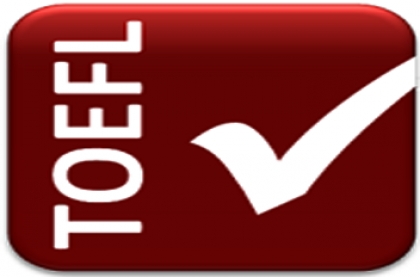 The Test of English as a Foreign Language (TOEFL) evaluates the English proficiency of people whose native language is not English. Most U.S. universities require that international applicants take the TOEFL. Generally a score of 61 to 80 on the Internet-based TOEFL (iBT),
173 to 250 on the computer-based version, or 500 to 550 on the paper-based version is required for admission to undergraduate and graduate programs in the United States, with graduate schools expecting the higher scores.
TOEFL iBT is a four-hour test with content to assess reading, listening, speaking, and writing skills.
Where do I get a TOEFL bulletin?
AMIDEAST maintains a supply of test bulletins with all pertinent information about the TOEFL, including the registration form.
Information on the exam content and registration procedures is also available at the TOEFL Web site.
Where and when can I take the TOEFL?
The TOEFL exam is administered in an Internet-based format at AMIDEAST/Lebanon. Tests are held approximately every two weeks, depending on demand, and are scheduled by appointment. Be sure to register early as test centers can fill quickly.
How do I register to take the TOEFL?
You may register directly with ETS (see TOEFL bulletin for details) or for a small additional fee you may register in person at AMIDEAST/Lebanon. You may pay in local currency at AMIDEAST/Lebanon but you still need to meet the registration deadlines and complete a TOEFL registration form.
How do I prepare for the TOEFL?
It is important for you to be familiar with the kinds of questions asked on the TOEFL. There are several ways to prepare.
Do the sample questions in the TOEFL bulletin
Visit the TOEFL Web site to see sample questions and tests
Purchase TOEFL preparation materials from AMIDEAST
Take a test preparation class at AMIDEAST
What do I do on the day of the test?
Arrive at AMIDEAST or other assigned test center 30 minutes before the assigned test time. Check-in procedures take time. If you arrive late, you may not be admitted to the test, and you will forfeit your test fees.
Bring photo bearing identification, as described in the TOEFL registration bulletin.
Bring your test confirmation information.
What about my scores?
Your unofficial score, without the essay grade, will appear on the screen following the test. Your official scores will be mailed from the United States about two weeks after the test if you type your essay or five weeks if you handwrite your essay. Please allow time for them to arrive by international mail.
If you need score reports to be sent to additional institutions, please complete the form in the TOEFL bulletin and return it with payment to ETS. If paying by credit card, you may also call ETS at (609) 771-7267 to order additional score reports. Scores are valid for two years.
Questions about any missing score reports should be directed to Educational Testing Service (ETS), the nonprofit organization that develops TOEFL and issues score reports. An e-mail sent to the ETS customer service address—This email address is being protected from spambots. You need JavaScript enabled to view it.—usually will receive a response in five to seven days. Test takers should wait at least eight weeks before contacting ETS about score reports. Score report problems are best avoided by careful preparation of the registration form: writing name and mailing address clearly and following payment procedures detailed in the TOEFL bulletin. SAT